Meet the cast!
I recently commissioned a wonderful artist to do a couple of scenes for my characters in Coming Home!
You might recognise most of these characters from my first book, Cherrington Academy – top left of the stairs is Charlie, ground floor is Logan, bottom of the right stair case is Ameliah, middle right stair case is Noah and then top of the right staircase is October!
However, on the bottom left there is a brand new character who I introduce at the start of Coming Home called Rafael! He used to be the school's star basketball player, till one slip up in an local newspaper interview about his sexuality sends the whole team into chaos!
One of the things I truly adore about this artwork is that it captures the entry way to the school's dorm that I describe in the very first chapter of book one and it's so amazing to see it come to life like this!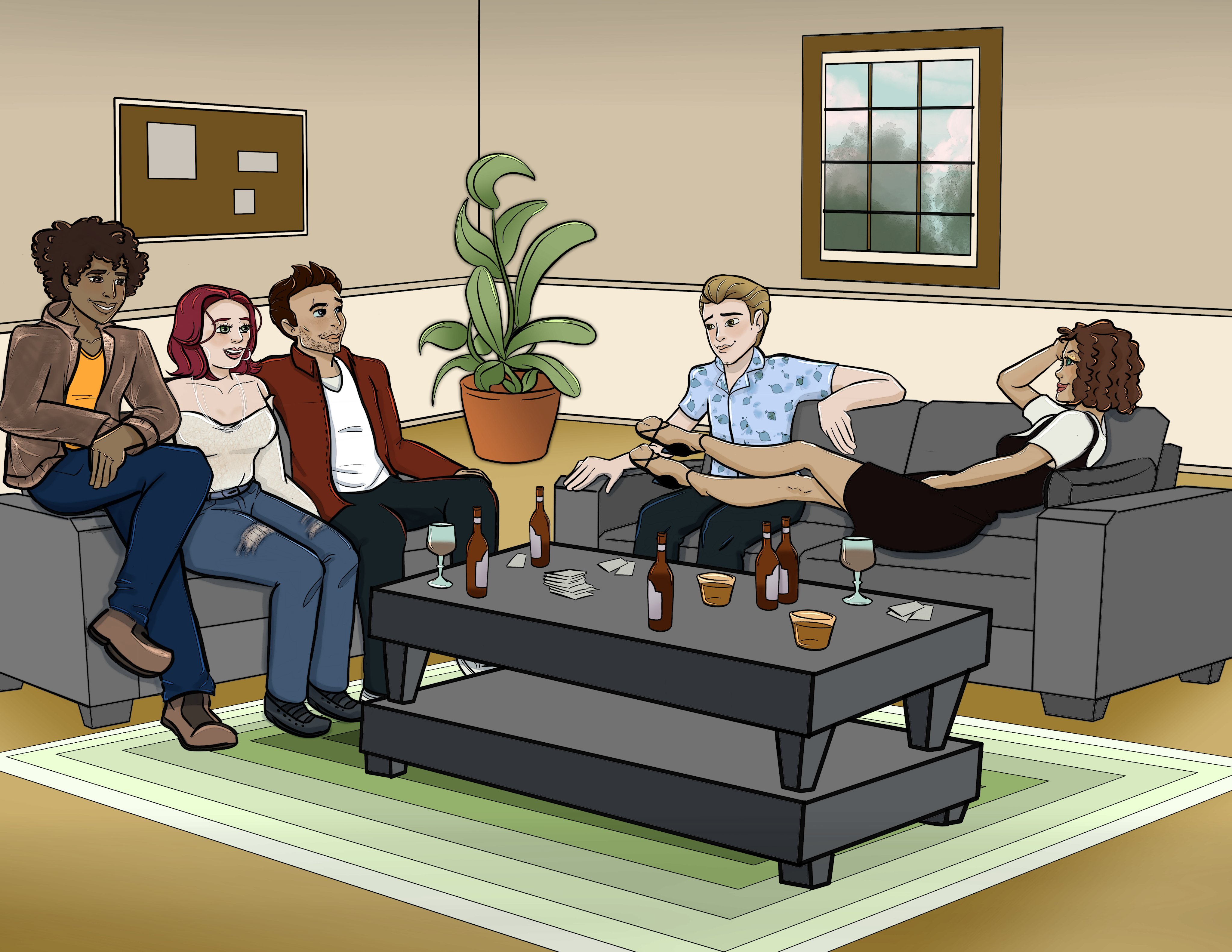 The best thing about Coming home for me is that it's split across two POV's. The first is Logan's whilst he's still at Cherrington Academy in his senior year, but the second half of the books follow the guys and gals from the year above on their University adventure. First in this photo on the left is Joshua he's the odd one out of this bunch of five as he's attending The University of Toronto – he's desperately trying to get on the Lacrosse team but his new friends have dragged him to the coding club. He spends more time back at his old school/Isaac's University as he misses his friends. Lizzy, to his left, is our creative writing, body positive, plus sized queen. She loves a good night out, but will also never say no to curling up in the library with a book. Isaac, the second main character in this book, it's his first year at McGill and he is struggling. He's putting too much pressure on himself to get good grades, thrive in his extra curriculars AND not think about all the pain he caused his ex, Logan. Alex and Cassidy are my fave new additions, after Rafael shhhh, they are your typical University party animals, Alex plays soccer and Cassidy is a none stop shopper.
If you're looking to commission some wonderful art like this, you can check out the artist's page here!
You can purchase a copy of Coming Home from a variety of retailers!
However, if you can purchase indie please do! You can find it at the indie retailer – Queer Lit (UK/EU) below and you can order it from your local bookstore!
Check out the playlist for Coming Home below!